It would not be wrong to say that Johnny Depp has had a long and glorious reign in Hollywood but not many may know that he actually has a link with the British royal family. Well, that's what gynecologist Nick Barratt told The Sunday Mirror. Research by the doctor could establish that the 56-year-old actor is the 20th cousin of the Queen of England, Elizabeth II [that's 20 "greats!"].
Dr. Barratt, a researcher for the BBC's Who Do You Think You Are?, said, "When I examined Johnny's history I discovered a likely ­connection to the royal family." He added, "I've since established the ­family tree that demonstrates how. You have to go back more than 500 years to reach the point where his ancestors become royal."
The doctor also mentioned that his ancestral family name is Deppes which goes back to the 14th Century French Huguenots living in England. While his royal link may come from an unrecorded marriage in the 1600s, Barratt believes that there is a probability. However, he does admit that "the balance of probability is that there is indeed a link between Depp and the ­royals – though I doubt we'll ever be able to prove it 100 percent."
Dr. Barratt added, "There are also several junctures where he can claim to have Cherokee blood."
Interestingly, it turns out, Johnny Depp is not the only beloved celebrity who is related to another unlikely famous personality, there are several who have curious family links. In fact, some of them are so shocking you might start wondering, do you know your favorite celebrity well?
1. Madonna, Céline Dion, and Camilla Parker Bowles
The Daily Mail claims that the Duchess of Cornwall and the pop sensation, Madonna are ninth cousins. They are descended from French-Canadians Madeleine Ernard and her carpenter husband Zacharie Cloutier (1617-1708). The Historic Genealogical Society in Boston which dug up their connection also revealed that the French-Canadian singer Celine Dion is from the same family. Who would have ever thought?
2. Ellen DeGeneres and Kate Middleton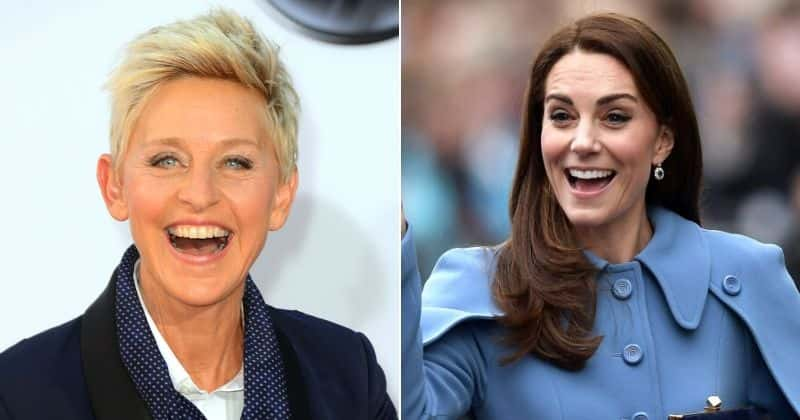 The talk show host and the would-be-queen are related through Sir Thomas Fairfax, an important general of the British civil wars, claims Vogue. Apparently, when Ellen found out that she is related to Kate, she wanted to hang out with her and buy new clothes for Prince George, reveals HELLO!
3. Elle & Dakota Fanning and Kate Middleton
Kate Middleton has another Hollywood connection.
E! reports that the Fanning sisters are direct descendants of King Edward III, who ruled England from 1327-1377. "Generation after generation, the lines we looked at pieced back directly to King Edward III proving that Elle is a direct descendant of royalty," E! quotes Michelle Ercanbrack, a family historian. "You can consider her a long lost princess. This connection is so unique and rare."
4. Matthew Perry and Keith Morrison
The famous Chandler Bing's personal life is kind of a blur but there is one detail about him which probably even his die-hard fans would not know. The Dateline anchor Keith Morrison is his stepdad. According to PEOPLE, both the celebs have a close relationship. In fact, Morrison told Andy Cohen that Perry gave him a Porsche 911 - "and I still drive it around!"
5. Julia Roberts and Emma Roberts
Ok! this might be an easy one. Emma is Julia Roberts' niece. The Pretty Woman star once wished her niece a happy birthday on Instagram and wrote, "Happy birthday to a gal I love and adore with my whole heart! Yes she is my niece." Emma is the daughter of Julia's brother Eric Roberts and Kelly Cunningham, reports HELLO!
6. Halle Berry and Sarah Palin
"You want to know who I'm related to? Sarah Palin!" PEOPLE quoted Berry. "[In] some twisted way. Somebody sent me this information that she was my distant [relative]." Well, she doesn't seem very excited about it, does she?
7. Tom Hanks and Fred Rogers
Tom Hanks was shocked to learn that he is, in fact, sixth cousins with the late Fred Rogers. Tom who played Mr. Rogers in the film A Beautiful Day in the Neighborhood, found out that he is indeed related to the late children's programming personality. "No, impossible … you're pulling our leg," the actor's wife, Rita Wilson, said. "Listen," said Hanks, "it all just comes together, you see."
References:
https://www.vogue.com/article/celebrities-related-to-royals
https://www.dailymail.co.uk/news/article-2550636/Worlds-unlikeliest-relatives-Yes-Majesty-really-Johnny-Depps-cousin-And-thats-just-start.html
https://www.bbcamerica.com/anglophenia/2011/05/royal-roundup-the-queen-and-johnny-depp-are-distant-cousins
https://www.hellomagazine.com/celebrities/2016071832459/ellen-degeneres-kate-middleton-hang-out/
https://people.com/movies/tom-hanks-learns-hes-a-distant-relative-of-fred-rogers-it-all-just-comes-together/
https://people.com/celebrity/celebrities-who-are-related/?slide=6556365#6556365
https://www.eonline.com/de/news/545721/surprise-kate-middleton-is-dakota-and-elle-fanning-s-cousin
https://www.hellomagazine.com/celebrities/2020021184606/julia-roberts-family-photo-niece-emma-roberts/